Research Symposium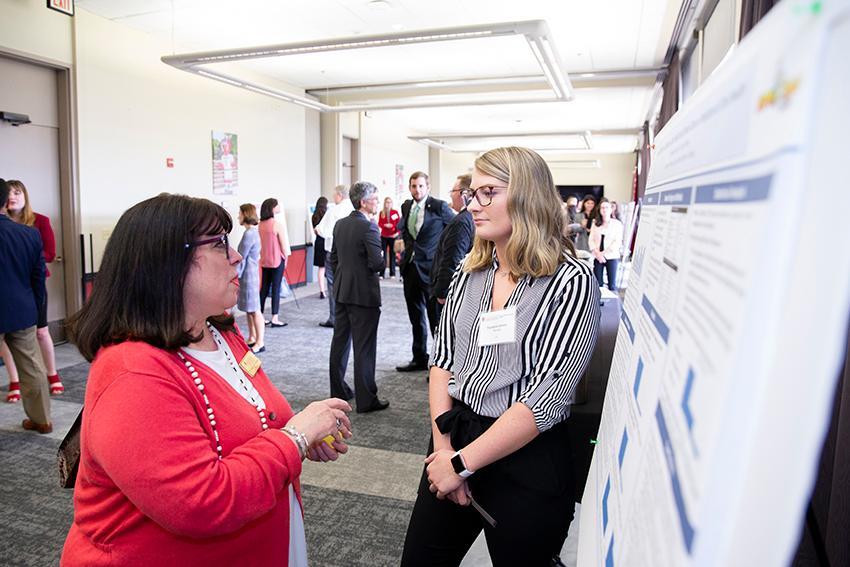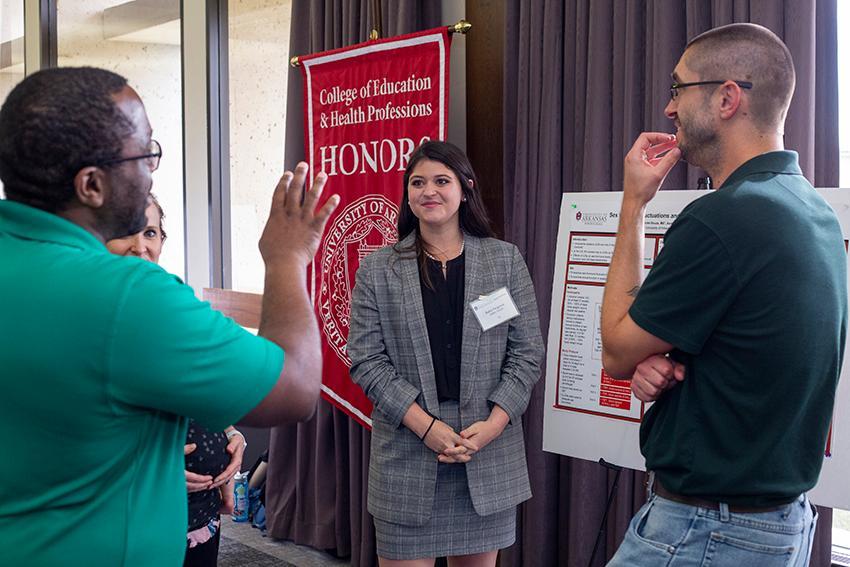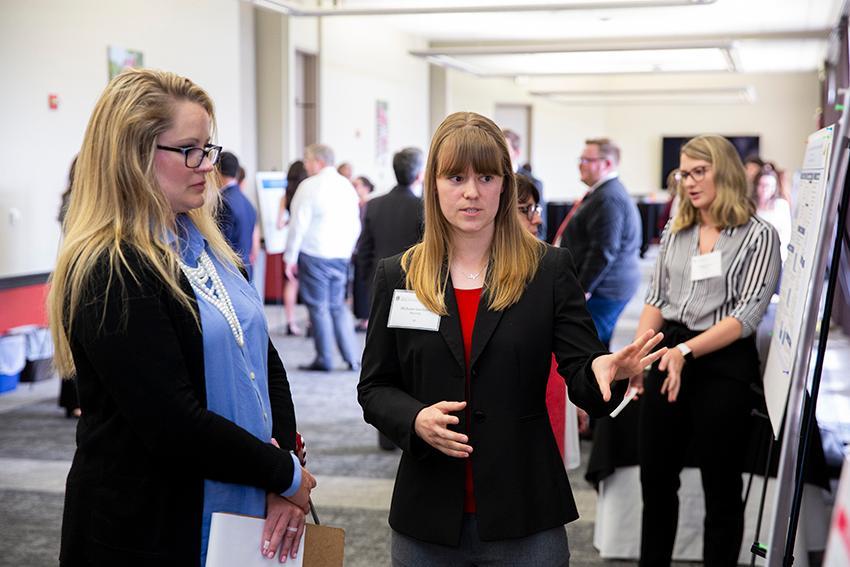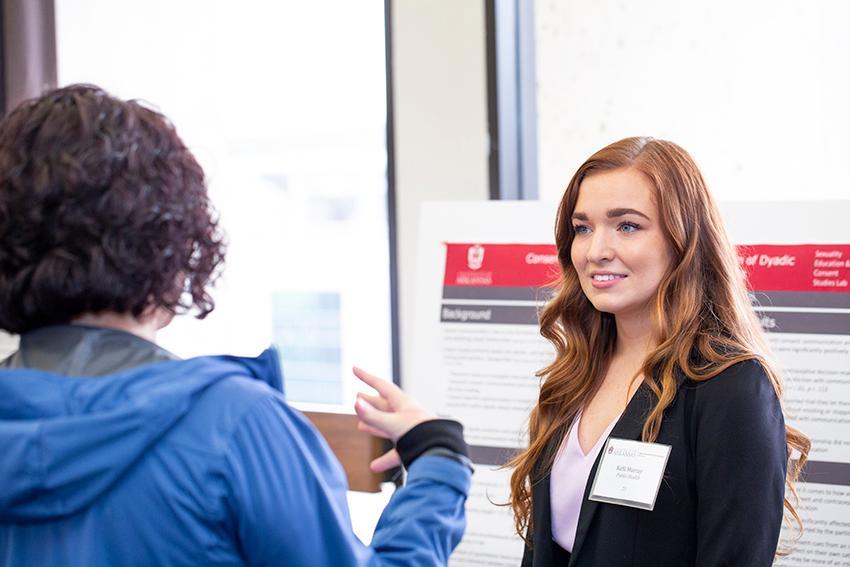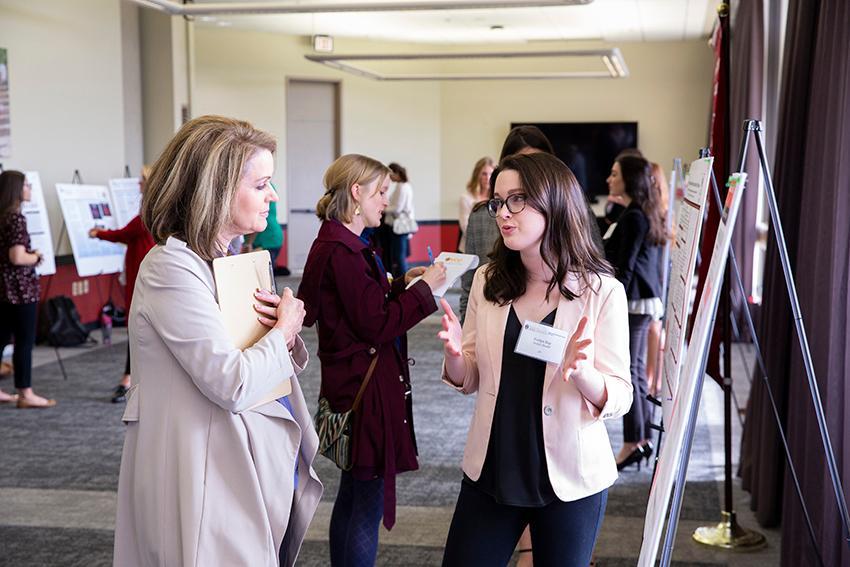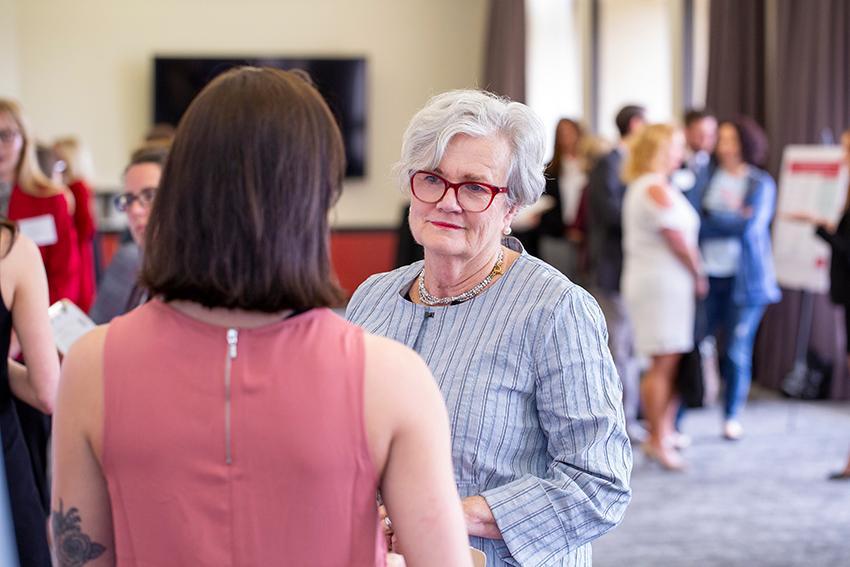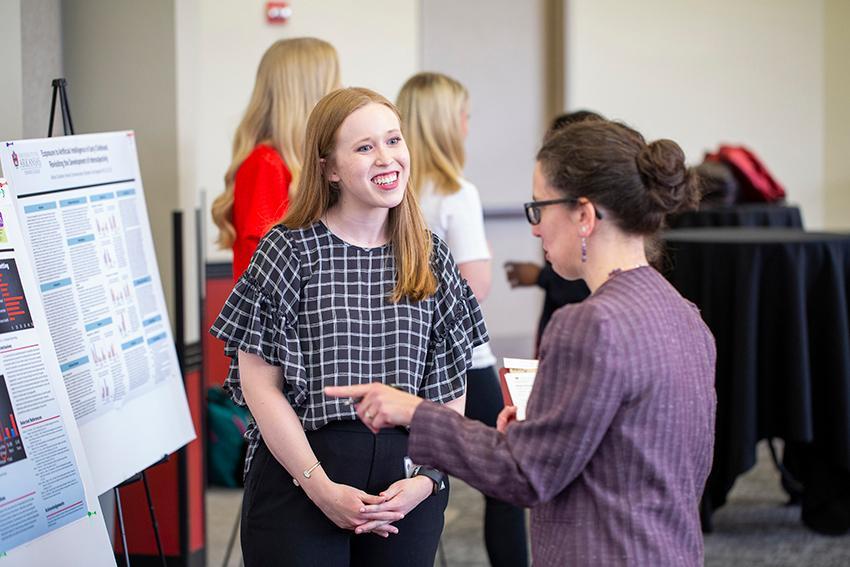 Each spring, the COEHP Honors Program hosts its Annual Research Symposium. At this event, students have the opportunity to present posters of their research to COEHP faculty and their peers. Judges score each poster presentation and the top student presenters are recognized. Additionally, with the approval of the thesis mentor, poster presentations at this event may be used as the final thesis defense.
The COEHP Honors Research Symposium gives Honors students valuable experience in writing a research abstract, creating and presenting a poster, and explaining their research to others; these skills help prepare students to attend professional conferences as they continue in their career.
In the beginning of the spring semester, a Call for Abstracts will be emailed to all COEHP Honors students with details on abstract formatting and the submission process. After the abstracts have been reviewed, students will be notified of the acceptance or rejection of their abstract.
Lauren Burkhalter

"Perceptions and Experiences of Bullying by Adolescents with Hearing Loss"

Evelyn Day

"A qualitative analysis of men's bystander behaviors in response to a sexual assault vignette"

Ashlyn Dunham

"Exposure to Artificial Intelligence in Early Childhood: Revisiting the Development of Intersubjectivity"

Kaley Ferguson

"Sex Hormone Fluctuations and Their Effects on Sexual Function in IUS Users"

Makayla Goggins

"Association of dietary behaviors, macro-nutrients, and energy intake with body fat percentage, lean tissue, and bone mineral density"

Kayley Guy

"Ulnar Collateral Ligament Reconstruction with Traditional Docking Compared to Novel Surgical Techniques"

Ashley Hensley

"Fitness vs. Fatness and Cardiovascular Health in Adolescents"

Jessica Lee

"The Effects of VML on Satellite Cell Mechanics Distal to the Defect Site"

Mishann Luedders 1st place

"Correlation Between Myostatin and Lean Muscle Mass in Older Adults"

Jordan Means

"The influence of dietary behaviors on aerobic capacity"

Amy Meek

"Professional perspectives: Parent coaching training in communication disorders programs"

Bridget Milam

"U.S. military veterans' attitudes and perceptions of mental healthcare"

Justine Montgomery

"The Emotional Impact of Failure to Thrive on Maternal Self-Attributions"

Kelli Murray

"Consent and Contraceptives: An Investigation of Dyadic Processes within Sexual Relationships"

Ashley Oline

"Phonological Working Memory in Aging and Young Adult Populations"

Andrew O'Neil

"Is he more attractive than me? The role of body image, perceived attractiveness, and self-efficacy on condom use behaviors among men who have sex with men"

Garrett Pierce

"Effect of Local Heating on Vascular Dysfunction"

Madeline Rainwater 2nd place

"Deception and Theory of Mind in Typically Developing Children and Children with Autism"

Jeffrey Rogers

"The acute effects of citrulline malate and Nitrosigine supplementation on vasodilation of young adults"

Stephanie Severe

"Parent Reports of Children's Oral Health and Dental Care as Predictors of Oral Health"

Madeline Smith

"Observed over-imitation in typically developing children and children with autism spectrum disorder ages eight-to-twelve years old"

Zackary Vaughan

"Effect of Long-Duration Standing and Sitting on Vascular Function"

Sophia Vincent 3rd place

"The Effects of a Literacy-Based Mentoring Program on Empowering Preadolescent Girls in Their Development of Confidence, Positive Self-concept and Leadership Skillset"

Victoria Weiss

"Determinants of Vaccinations Among College Students in South Africa Leading to Current Perceptions of the Potential Success of HIV Vaccines"

Rebecca Yeager

"An Investigation of Preservice Teachers' Knowledge of Diversity and Multicultural Literature at One University"
Kelly Allen 1st place


"The Effect of an Aging Suit on Young and Middle-Aged Adults' Attitudes Toward Older Adults"

Tatianna Balis

"The influence of Virtual Reality headset use on neck muscle activity"

Reid Fawcett

"Consumption of Sugar Sweetened Beverages Among Children in Northwest Arkansas"

Nathanael Garcia

"Skin blood flow responses of smokers during physical activity in the heat"

Natalie Gohman

"The Relationship Between Community Dwelling Older Adults' Fall Risk and Beliefs of Risk for Falling in Northwest Arkansas and Bolgatanga, Ghana"

Elika Hamer

"The Effects of Mild Dehydration on Cycling Performance in the Heat"

Jane Justus

"Development of a Non-Cognitive (GRIT) Scale for Use with Infants and Toddlers"

Kallean Kennedy

"Perceptual Responses to exercise heat-stress in smokers versus non-smokers"

Nathan Max

"Progesterone, Estrogen, Androstenedione, and Testosterone levels during 4-weeks of IUD Birth Control Use"

Megan Mikkelsen

"The Self-Perception of Social Skills for Children with ASD"

Kelli Murray

"Sexual consent communication in mainstream pornography"

Andrew O'Neil 2nd place


"A qualitative investigation of sexual consent communication among men who have sex with men"


Thomas Osment

"UAMS Joint Academy Health Literacy Study"

Lauren Phillips

"The Self-Perception of Executive Functioning Skills for Children with ASD"

Sarah Ramey

"Cancer cachexia: Metabolic changes that occur in oxidative capacity and carbohydrate and lipid metabolism of the liver"

Kaitlyn Reid

"Causes of late preterm infant hospital readmission rates in relation to feeding"

Alexandria Richey

"Effects of increased daily protein intake and resistance training exercise on total body muscle strength among adults aged 60 years or older"

Mackenzie Rosenberg

"Reducing Anxiety in Elementary School Children by Implementing Yoga"

Courtney Sprague

"The Impact of Student-Teacher Relationships on a Student's Motivation in Middle School"

Paige Steiner

"Effects of a hydration intervention on blood markers of hydration status in low drinkers"

Kyle Turner

"Changes in hepatic extracellular matrix during the development of cancer-cachexia in mice"

Martha Upton

"Body temperature during exercise heat stress in smokers vs. non-smokers"

Annelise Zaring 3rd place


"Effect of a hydration intervention on urinary markers of hydration status in low drinkers"